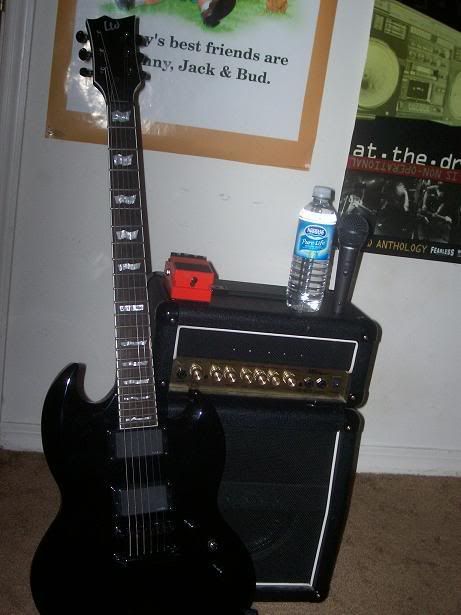 Specs:
Construction / Scale
- Set-Neck / 24.75"
Body
- Mahogany
Neck / Fingerboard
- 3-Pc. Mahogany / Rosewood
Nut Type / Width
- Earvana Compensated / 42mm
Neck Shape
- Thin U
Inlays
- Flags
Frets
- 24 XJ
Binding
- White (N/H) (Creme (N/H) on OW)
Hardware
- Black Nickel
Tuners
- Grover
Bridge / Tailpiece
- Tune-o-matic w/ Stop Tailpiece
Pickups
- EMG 81 (B) / 85 (N) Active
Electronics
- Vol / Toggle / Tone
Lol, as you can see I don't have the best gear. At the moment just a boss md-2 MEGA DISTORTION OMGRAWR pedal and a marshall microstack. I don't really have any complaints about this guitar. I wish it had more than 1 volume and 1 tone knob but eh, that's really about it. The emgs pick up really nicely as you can imagine, with a decent amount of gain all you have to do is tap it.
I plan on buying a tube amp of some sort in the future. I'd like to look into marshalls and line 6s, but if you have any other suggestions please feel free. I've got a lot of time to fuck around with different amps while I'm saving up for a half stack. I also want to get a multi-fx pedal. They're relatively cheap, but I'm pretty fucking broke right now. Anyway, show and tell!