Just using this thread to point out some of the notable cinematic releases within the next few months.
September 26
Blindness
D: Fernando Meirelles
Mark Ruffalo, Julianne Moore, Gael Garcia Bernal
Miramax Films
Synopsis
: An epidemic of "white blindness" which spares no one sweeps through an unnamed contemporary city and pushes society to the brink of breakdown.
---
September 26
Choke
Sam Rockwell, Anjelica Huston
D: Clark Gregg
Fox Searchlight
Synopsis
: Self-loathing sex addict Victor Mancini pretends to choke in restaurants in order to get the attention and affection he desperately seeks. His "saviors" often feel responsible for him afterwards and even send him money, which helps him pay for the constant care his damaged, schizophrenic mother, Ida, needs. While he works at Colonial Dunsboro and struggles to make ends meet, Victor is surprised to find himself falling in love with one of Ida's doctors, Paige, the first woman he'd rather like than sleep with.
---
September 26
Miracle at St. Anna
D: Spike Lee
Derek Luke, Michael Ealy, Laz Alonso,
Omar Benson Miller, Matteo Sciabordi,
John Leguizamo, Naomi Campbell,
Joseph Gordon Levitt, James Gandolfini
Touchstone Pictures (Disney)
Synopsis
: Four soldiers from the army's Negro 92nd Division find themselves separated from their unit and behind enemy lines. Risking their lives for a country in which they are treated with less respect than the enemy they are fighting, they discover humanity in the small Tuscan village of St. Anna di Stazzema.
---
September 26
W.
Josh Brolin, Elizabeth Banks, Ellen Burstyn
D: Oliver Stone
Lionsgate
Synopsis
: A drama about the formative years of U.S. President George W. Bush.
---
October 24
Changeling
Angelina Jolie, John Malkovich
D: Clint Eastwood
Universal
[hide=Synopsis]
Clint Eastwood directs Angelina Jolie and John Malkovich in a provocative drama based on actual events: Changeling. In the film, Christine Collins' (Jolie) prayers are met when her kidnapped son is returned. But amidst the frenzy of the photo-op reunion, she realizes this child is not hers. Facing corrupt police and a skeptical public, she desperately hunts for answers, only to be confronted by a truth that will change her forever.
Los Angeles, 1928: On a Saturday morning in a working-class suburb, Christine said goodbye to her son, Walter, and left for work. When she came home, she discovered he had vanished. A fruitless search ensues, and months later, a boy claiming to be the nine-year-old is returned. Dazed by the swirl of cops, reporters and her conflicted emotions, Christine allows him to stay overnight. But in her heart, she knows he is not Walter.
As she pushes authorities to keep looking, she learns that in Prohibition-era L.A., women don't challenge the system and live to tell their story. Slandered as delusional and unfit, Christine finds an ally in activist Reverend Briegleb (Malkovich), who helps her fight the city to look for her missing boy. Based on the actual incident that rocked California's legal system, Changeling tells the shocking tale of a mother's quest to find her son, and those who won't stop until they silence her.[/hide]
---
November 14
Quantum of Solace
D: Marc Forster
Screenwriter: Neal Purvis, Robert Wade, Paul Haggis
Daniel Craig, Olga Kurylenko, Mathieu Amalric, Judi Dench
Columbia Pictures (Sony), MGM
Synopsis
: Seeking revenge for the death of his love, secret agent James Bond sets out to stop an environmentalist from taking control of a country's water supply.
---
November 14
The Road
Viggo Mortensen, Charlize Theron,
Kodi Smit-McPhee
D: John Hillcoat
Dimension Films, The Weinstein Company
Synopsis
: The post-apocalyptic nightmarish road trip of a man who tries to transport his son to safety while fending off starving stragglers and marauding packs of cannibals.
---
November 21
The Soloist
Jamie Foxx, Robert Downey Jr., Rachael Harris
D: Joe Wright
S: Susannah Grant
DreamWorks Pictures (Paramount)
Synopsis
: In "The Soloist," an emotionally soaring drama about the redemptive power of music, journalist Steve Lopez (Oscar® nominee Robert Downey Jr.) discovers Nathaniel Anthony Ayers (Oscar® winner Jamie Foxx), a former classical music prodigy, playing his violin on the streets of L.A. As Lopez endeavors to help the homeless man find his way back, a unique friendship is formed, one that transforms both their lives. "The Soloist" is directed by Joe Wright (Golden Globe winner for Best Drama and Oscar® nominee for Best Picture "Atonement").
---
November 26
Milk
Sean Penn, Josh Brolin, James Franco
D: Gus Van Sant
Focus
[hide=Synopsis]
His life changed history. His courage changed lives.
In 1977, Harvey Milk was elected to the San Francisco Board of Supervisors, becoming the first openly gay man to be voted into public office in America. His victory was not just a victory for gay rights; he forged coalitions across the political spectrum. From senior citizens to union workers, Harvey Milk changed the very nature of what it means to be a fighter for human rights and became, before his untimely death in 1978, a hero for all Americans. Sean Penn stars as Harvey Milk under the direction of Gus Van Sant in Milk, filmed on location in San Francisco from an original screenplay by Dustin Lance Black, and produced by Dan Jinks and Bruce Cohen.
Milk charts the last eight years of Harvey Milk's life. While living in New York City, he turns 40. Looking for more purpose, Milk and his lover Scott Smith (James Franco) relocate to San Francisco, where they found a small business, Castro Camera, in the heart of a working-class neighborhood. With his beloved Castro neighborhood and beautiful city empowering him, Milk surprises Scott and himself by becoming an outspoken agent for change.
With vitalizing support from Scott and from new friends like young activist Cleve Jones (Emile Hirsch), Milk plunges headfirst into the choppy waters of politics. Bolstering his public profile with humor, Milk's actions speak even louder than his gift-of-gab words.
When Milk is elected supervisor for the newly zoned District 5, he tries to coordinate his efforts with those of another newly elected supervisor, Dan White (Josh Brolin). But as White and Milk's political agendas increasingly diverge, their personal destinies tragically converge.
Milk's platform was and is one of hope - a hero's legacy that resonates in the here and now.[/hide]
---
November 28th
Slumdog Millionaire
Irrfan Khan, Dev Patel
D: Danny Boyle
Fox Searchlight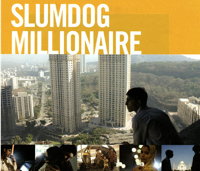 Synopsis
: An illiterate kid looks to become a contestant on the Hindi version of Who Wants to be A Millionaire in order to re-establish contact with the girl he loves, who is an ardent fan of the show.
---
December 5th
Frost/Nixon
Matthew MacFadyen, Michael Sheen
D: Ron Howard
Universal Pictures
[hide=Synopsis]
Oscar®-winning director Ron Howard brings to the screen writer Peter Morgan's (The Queen, The Last King of Scotland) electrifying battle between Richard Nixon, the disgraced president with a legacy to save, and David Frost, a jet-setting television personality with a name to make, in the untold story of the historic encounter that changed both: Frost/Nixon. Reprising their roles from Morgan's stageplay are Frank Langella, who won a Tony for his portrayal of Nixon, and Michael Sheen, who fully inhabited the part of Frost onstage in London and New York.
For three years after being forced from office, Nixon remained silent. But in summer 1977, the steely, cunning former commander-in-chief agreed to sit for one all-inclusive interview to confront the questions of his time in office and the Watergate scandal that ended his presidency. Nixon surprised everyone in selecting Frost as his televised confessor, intending to easily outfox the breezy British showman and secure a place in the hearts and minds of Americans.
Likewise, Frost's team harbored doubts about their boss' ability to hold his own. But as cameras rolled, a charged battle of wits resulted. Would Nixon evade questions of his role in one of the nation's greatest disgraces? Or would Frost confound critics and bravely demand accountability from the man who'd built a career out of stonewalling? Over the course of their encounter, each man would reveal his own insecurities, ego and reserves of dignity-ultimately setting aside posturing in a stunning display of unvarnished truth.
Frost/Nixon not only re-creates the on-air interview, but the weeks of around-the-world, behind-the-scenes maneuvering between the two men and their camps as negotiations were struck, deals were made and secrets revealed…all leading to the moment when they would sit facing one another in the court of public opinion.
[/hide]
---
December 25th
The Curious Case of Benjamin Button
Brad Pitt, Cate Blanchett, Tilda Swinton,
Director: David Fincher
Paramount Pictures
Synopsis
: A baby named Benjamin Button is born with the soul and face of an 80 years old man. However, with each birthday, his appearance and behavior grow younger. He hides from who he is in order to be accepted by his family and society but ultimately comes to realize, with guidance from a wise old woman, that for his life to be complete, he must be himself. At the age of 50, he falls in love with a 30 years old woman... but how can they have a future together if he continues to grow younger and she older with every year that passes by?
---
December 26th
Revolutionary Road
Leonardo DiCaprio, Kate Winslet
D: Sam Mendes
Paramount Vantage
Synopsis
: Frank and April Wheeler, a husband and wife in 1950s suburban Connecticut, dissatisfied with life, wish to move to France while their relationship deteriorates into an endless cycle of squabbling, jealousy and recriminations.