This is a bit of a mouth full, so I'll start from the very beginning and be as concise as I possibly can.
It started with me playing Left 4 Dead this evening, I closed the game and noticed it was taking an absurd amount of time for the game to close. I was forced to restart. The last time this happened, my diskeeper's auto defrag was off, so I went to check on Diskeeper to make sure everything was up and running, when I encountered an odd error, stating...
Diskeeper failed to connect to service. The service may have stopped. See windows event log for more details.
So, after being unable to look at the log for some reason, I check under the control panel services to try and start it manually, I get another generic error message... So at this point I move to uninstall / reinstall the program. Same deal. Annoyed, I uninstall / restart / reinstall with the same results. I break down and finally just get a trial version of O&O defrag just so that I can get a defrag done. I get similar errors and issues with this new program. I remove the program and go looking for a registry cleaner when I come across this number called
Advanced System Care Professional
.
I notice it on download.com, notice over 5000 reviews averaging out to be 4 1/2 stars, so I go to try it. The program itself finds a ton of errors. I set it to fix, and restarted my computer... But something didn't feel right after the reboot. First of all, the stupid windows security alert kept popping up after each restart, (the small annoying reminder window that I had somehow disabled before), and the fonts looked smaller and kind of... odd.
Here, I'll show a screenshot.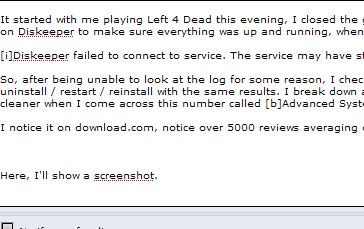 Most programs have this weird new font; my email, firefox, etc. Its not specific to one thing
After I noticed this, I looked up some more reviews on the program, many were glowing, while some were from disgruntled users that have had to reinstall windows because of this program.
At this point, I'd like to ask a few questions.
1 - Why won't diskeeper / O&O defrag work? Bear in mind I've already tried the most common solutions (checking services and trying to start the service manually)
2 - How do I recover my older font layout?
3 - Is Advanced System Care safe to use? There seems to be a very big love hate thing going on with this program.
And the bonus question
4 - Windows restore refuses to work, I hit the final "next" button and nothing happens at all... Help?
Thanks in advance for any information on this. I fear it might be time for a new installation of windows.